FTCJ 25th Anniversary Pre-Event: Craig Kielburger (Founder of Free The Children/WE) × Sanae Nakajima (Founder of FTCJ) Talk
日本語版はこちら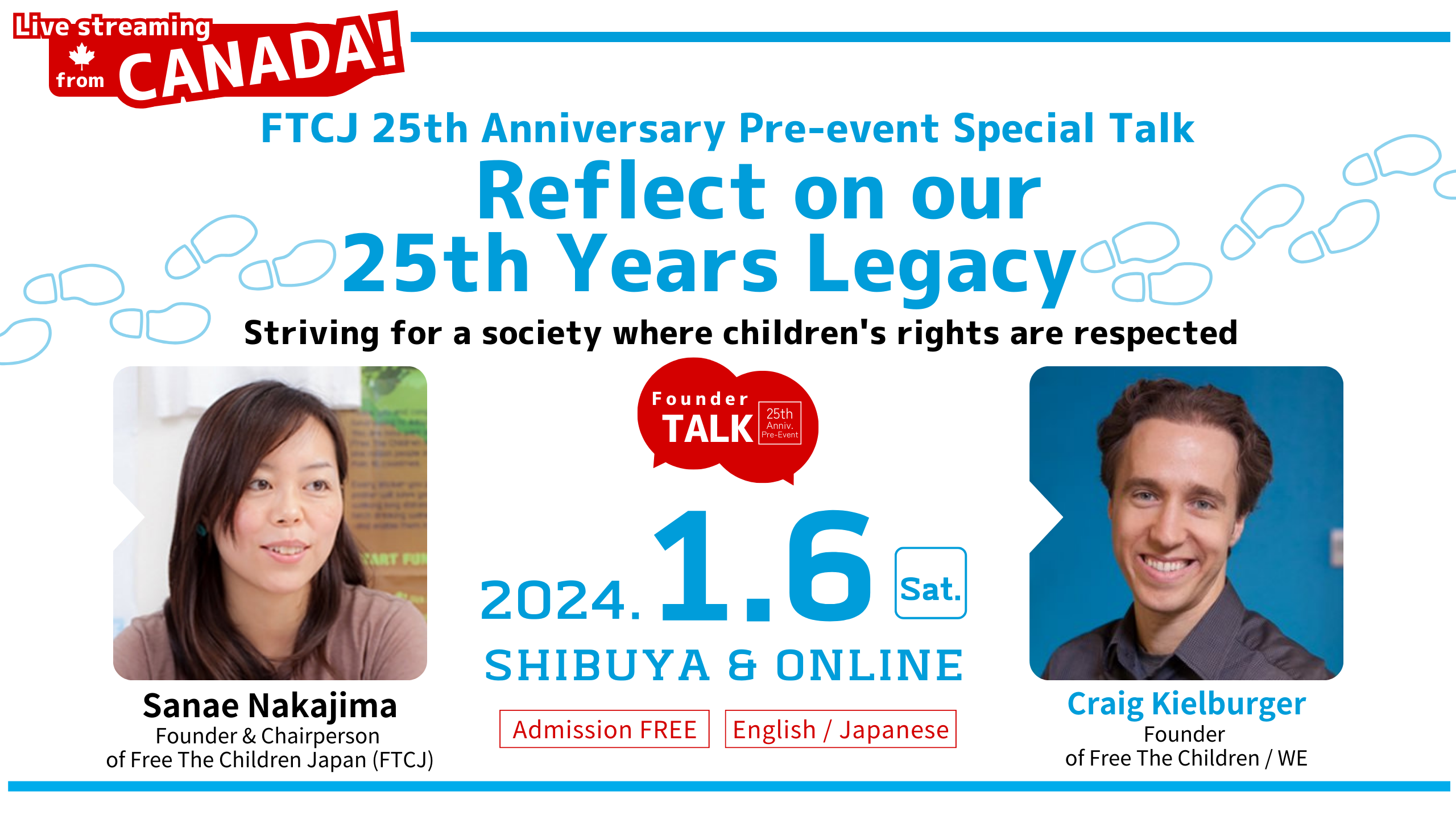 Free The Children Japan (FTCJ) will celebrate its 25th anniversary in January 2024. Thanks to the lots of supporters and young people who have taken action with us, we are able to commemorate our 25th anniversary.
In 2024, we are planning various events to celebrate our 25th anniversary. As the first event, we are pleased to invite Craig Kielburger, founder of FTC and WE and a world-renowned human rights activist, as our special guest for a conversation with Sanae Nakajima, founder and chairperson of Free the Children Japan, on January 6.
This event is free of charge and you are welcome to attend, don't miss it!
---
▶Live Streaming from Canada – Reflecting on our 25 years Legacy
In this event, Craig Kielburger, founder of Free the Children and WE, and Sanae Nakajima, Chair of the board of FTCJ, will talk about the history of the organization and its 25-year journey. What is a society where children's rights are valued?  What is required of adults, schools, families, and communities in order to listen to children's voices? We will discuss children's rights and children's power from various angles, including Canada's pioneering realization of social diversity and the activities of our organization, which has been valuing children's rights for 25 years.
This is the first time in five years that they have met face-to-face. This event will be broadcast live from Toronto, Canada, where Free the Children was born! Interpretation will be provided. You can join us online via ZOOM. We look forward to seeing many of you there!
---
FTCJ 25th Anniversary Pre-event Special Talk
Craig Kielburger × Sanae Nakajima
– Reflect on our 25th Years Legacy:  Striving for a society where children's rights are respected  –
DATE   
SATURDAY, JANUARY 6, 2024 
TIME    10:00am – 12:00pm (JST)
* First-come basis. Application will be closed when capacity is filled.
ADMISSION  Free 
Hosted by Free The Children Japan  /
Sponsored by Daito Kentaku Group Mirai Foundation  /
Supported by Wise-Infinity Inc.
---
Program
1)Talk Session: Footsteps from establishment of FTC / WE and FTCJ
Looking back on the history of Free the Children since its establishment, we will consider what is required in the future to create a society where children's rights are valued, the challenges that the international community faces today, and what we can do to help solve these problems.
2)Discussion :How is education in Japan and Canada the same and different? 
We will invite one Japanese youth member who is now studying in Canada, and discuss about education.
3) Q&A from audience
---
<Speakers>
Craig Kielburger (Founder of Free the Children / WE)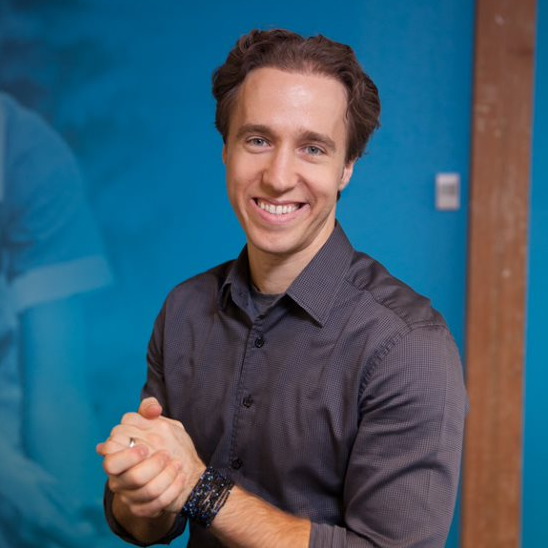 Born in Ontario, Canada, 1982. F
ounder of the world biggest children-based NGO: Free the Children (FTC, currently called WE Charity Foundation). He has empowered 200,000 students with education, 30,000 women through alternative income programs and provide access to healthcare and clean water to more than one million people in Africa, Asia and Latin America since he founded FTC in 1995. He has a degree in Peace and Conflict Studies from the University of Toronto, and he is the youngest-ever graduate of the Kellogg-Schulich Executive MBA program.
Sanae Nakajima (Chairperson of the board of Free the Children Japan)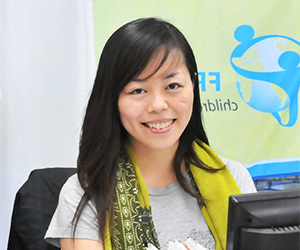 She became involved in social issues when she started working for an environmental protection organization as a student. After working for an apparel company, she moved to the U.S. in 1997 to work as an intern at an NGO. During that time, she became acquainted with Free the Children and sympathized with its philosophy. After returning to Japan in 1999, she founded the FTC chapter in order to introduce it to Japan. Since 2022, she has been a member of the Niigata City Committee for the Promotion of Children's Rights.
(For more detail, please refer https://ftcj.org/eng/about-us )