Halloween Dress Up × Food Drive Event on Oct.24
日本語版はこちら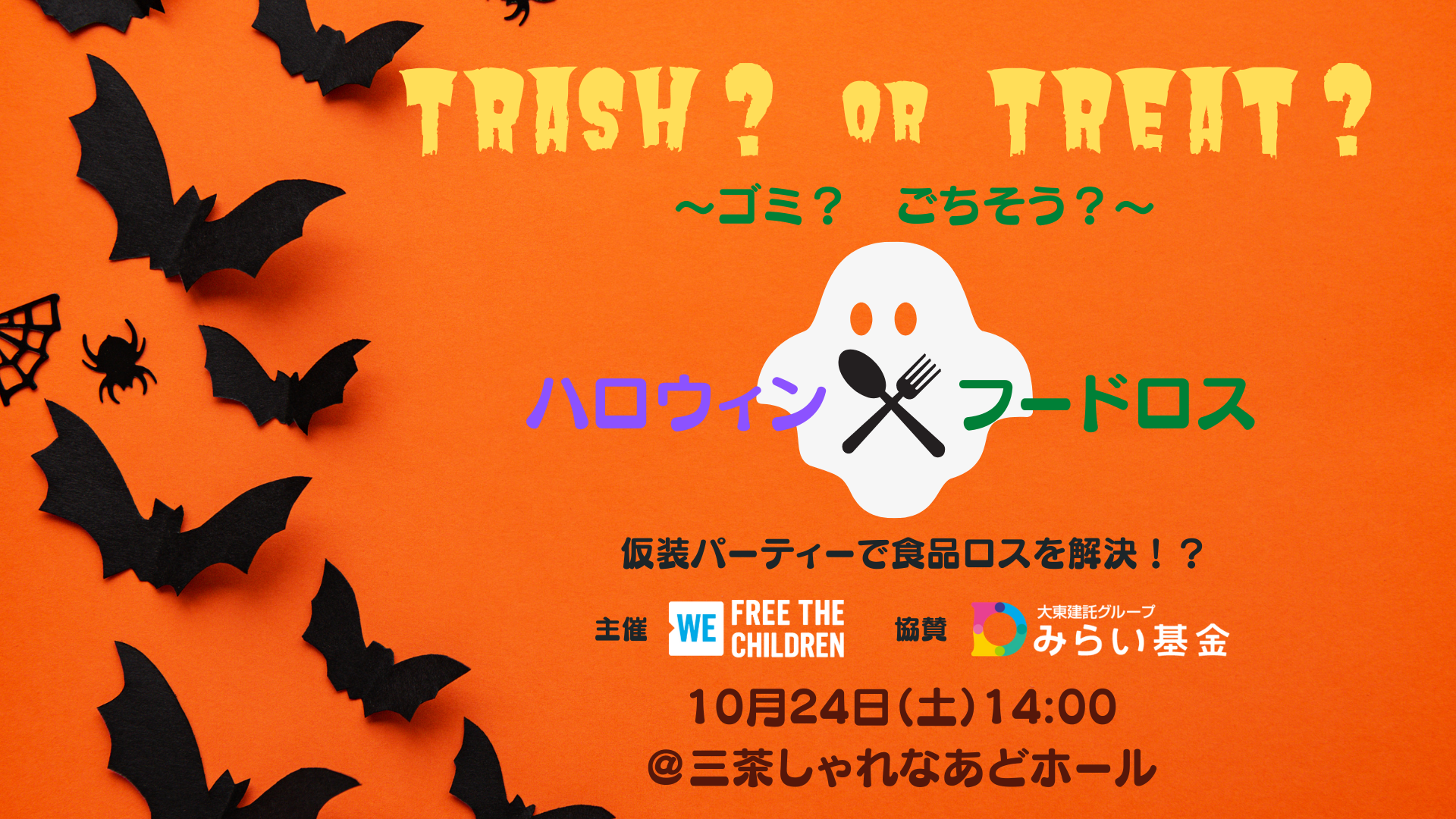 October is "World Food Day Month" and Halloween is coming soon!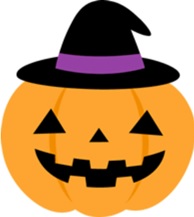 Have you ever thrown away edible food?
Now, Food Loss and Waste is an increasingly serious problem worldwide.
In Japan, the government estimates that of the 24.5 million tons of food wasted in fiscal 2017, and food still fit for consumption amounted to 6.12 million tons.
Quote from Ministry of Agriculture, Forestry and Fisheries
On the other hand, many people can't gain sufficient food and are suffering from serious hunger.
Free The Children Japan (FTCJ) would like to think about these food issues with you,
so we'll hold the Halloween event

"Trash? or Treat? ~ Feast? Waste? ~"


on October 24th (Sat)!
Please come dress-up in Halloween costumes and bring unused food in your home!
【FTCJ Halloween Dress Up × Food Drive Event "Trash? or Treat?" 】
WHEN: Saturday,  Oct. 24, 2020  2:00 PM – 4:00 PM 
    Dressing room available from 1:30 PM
VENUE: Sancha Sharenade Hall Meeting Room Hall Orion
https://www.setagaya.co.jp/kuminkaikan/sangenchaya/facilities/index.html
WHO CAN PARTICIPATE: Anyone can! 
But If your temperature is over 37.5 degrees, entry to the event room will not be permitted. Please see the below for more details on entry conditions.
COST: Free
REQUIREMENT: Please bring your non-perishable food donations to the event. We will donate the collected food to Setagaya Social Welfare Council to support families in need.
FEATURES: On the day of the event, we will
– talk about Food Loss and Waste
– do a dress up contest 
– play a game trying to guess at weight of collected food
There'll be also some booths selling fair trade goods and fresh foods at the venue!
And we'll give great goodies for all participants!  
Please join us!
[More Info about the Program]
・Dress up contests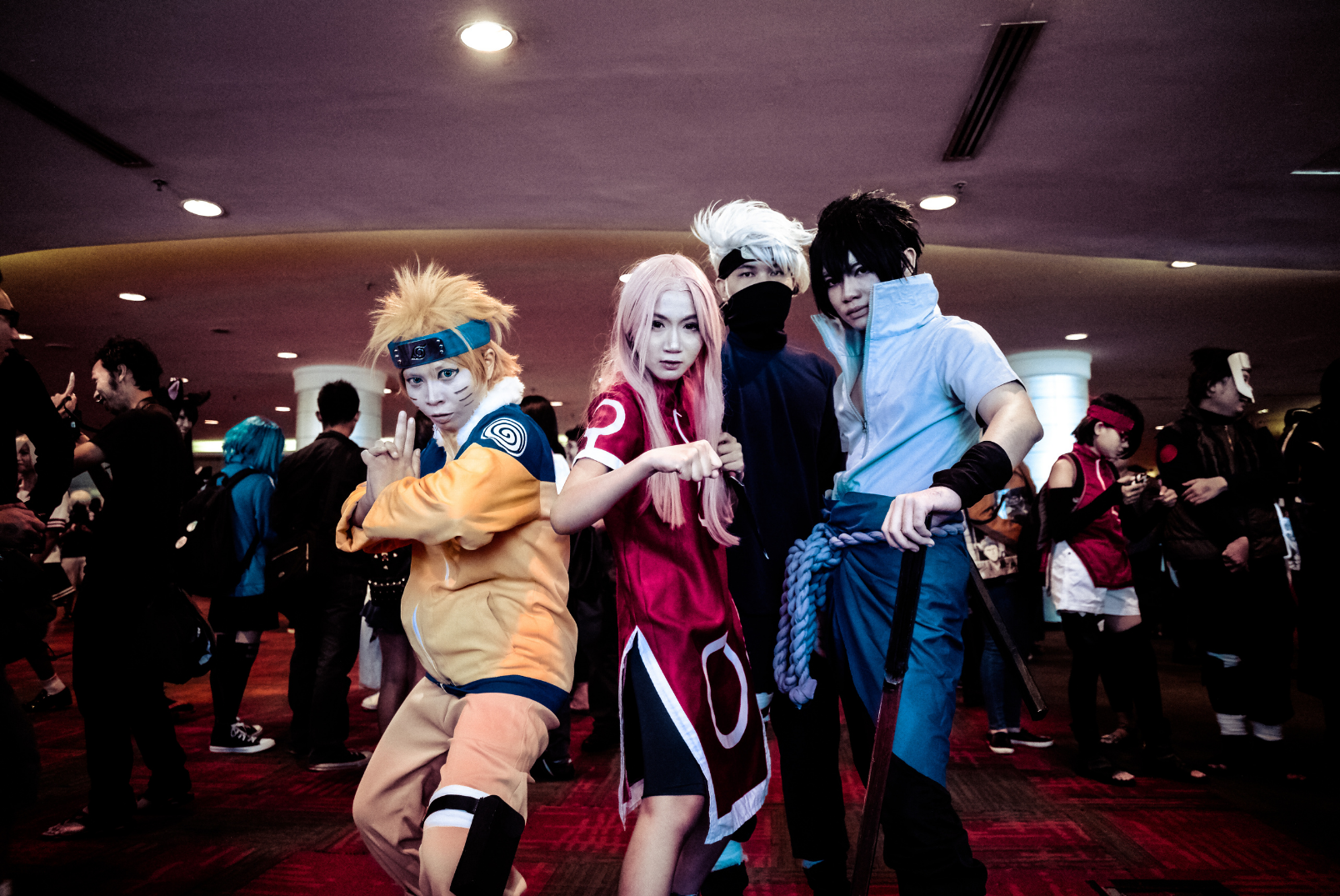 There are 3 costume judging categories: 
The Best Movie Character Award

The Best Anime Character Award

It's so typical of Halloween Award
If you want to entry the contests, please answer YES for the question
"Entry for Dress up contests" in the application form above.
※If entry is less than 3 people, contests will be canceled.
※If entry people is few, award categories will be integrated.
☆Presents for all participants
e-tray (eatable dish)(Cooperation: Marushige-Seika Inc.)
Pacoon (eatable spoon)(Cooperation: Kinrosyoku Co.,Ltd )
【ATTENTION】
Food you bring to the venue should be:
・ Unopened (the packaging and exterior are not damaged)
・ Two months or more before the expiration date (excluding salt and sugar)
・ Not to require freezing or refrigeration.
(Examples)
Rice, brown rice, flour, instant retort foods, pasta, somen noodles, dried noodles such as udon noodles, seaweed, dried foods, miso, soy sauce, cooking oil, sugar, salt, seasonings, canned foods (meat, fish, vegetables, fruits, etc.)
Luxury items (sweets, instant coffee, tea, etc.), Beverages (excluding alcohol), Baby food etc.
*You don't have to buy food to donate for the event. 
If you cannot donate food, please donate 500 yen or more.
【Anti-COVID-19 measures】
・Please wear mask of dress which covers your mouth.
・Please inform your name and phone number and mail address.
・There'll be disinfectant at the venue.
・The seats at the venue will be installed at intervals.
・ You have to take body temperature measurement at the entrance.
・ Please cooperate in ensuring social distancing.
・ Please refrain from talking in a loud voice in the hall.
・ Please bring a handkerchief.
・ Ventilation in the hall is properly maintained.
・ Please cooperate with the separately leaving.
【Application Form】
https://ws.formzu.net/fgen/S18663822/
【More questions】info@ftcj.org
Hosted by  Free The Children Japan 
Supported by  Daito Group Mirai Fund, Marushige-Seika Inc.  Kinrosyoku Co.,Ltd  
Cooperated by Setagaya Ward