Change Makers Fes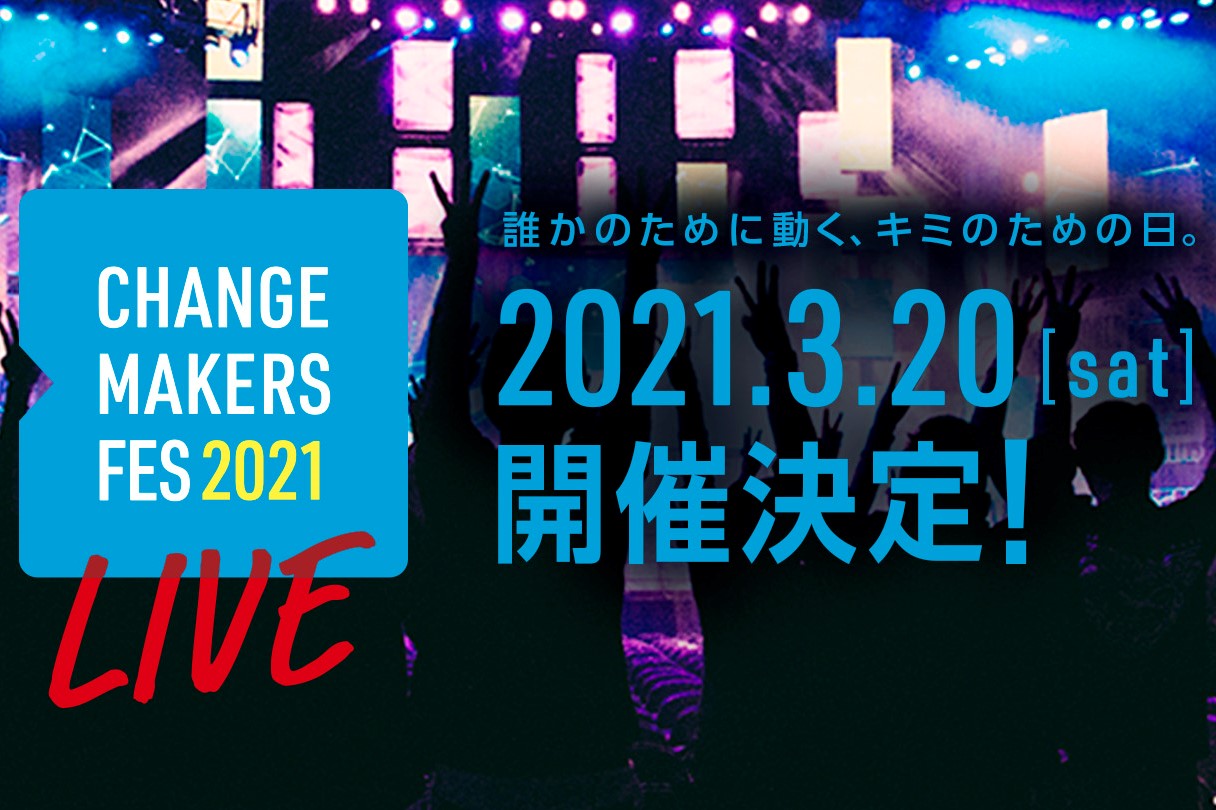 About Change Makers Fes
Change Makers Fes is an annual youth empowerment event organized by Free The Children Japan. Change Makers Fes invite students in Japan and celebrate the impact they have made on local and global issues. Students earn their tickets for this event by taking actions to solve social issues.
This event was started in Canada as "WE Day". The first event was held in October 2007 at the Ricoh Coliseum in Toronto, Canada. Since then, the program has expanded to annually hold events in more than 20 cities in Canada, the US, the UK and the Caribbean. The event series features an inspiring line-up of world-renowned speakers, award-winning performers such as Al Gore, Elie Wiesel, Martin Luther King III, Kofi Annan, Prince Harry, Malala Yousafzai, Natalie Portman, Demi Lovato, Selena Gomez, Lilly Singh, Jennifer Hudson and Nelly Furtado and more.
Background and Purpose of "Change Makers Fes"
In order to achieve the Sustainable Development Goals (SDGs), we believe that everyone needs to do their part: governments, the private sector, civil society and the general public. We, Free The Children Japan would like to strongly state that children have the power to make a difference for the better world, and will play a crucial role in achieving the SDGs since children have the right to be heard and have a say in all decisions affecting them.
However, in Japan, it is hard to say that the dignity and rights of children are respected.
According to the survey conducted by Japan Youth Research Institute (2011), 68.3 % of high school students answered, "I do not have enough power to make the society better". Another survey conducted by the government of Japan shows that the percentage of young people who have positive views of themselves is lower than that in foreign countries. 45.8 % of Japanese aged between 15 and 25 answered, "I am satisfied with myself." yet for the same question 86.0 % in the U.S. and 83.1 % in the U.K. Numbers of teenagers in Japan who commit suicide has been increasing in these days.
Therefore, we are holding this event for improving self- efficacy and self-esteem of young people. We believe that we can inspire and encourage them to be change makers through this event.
We are calling our event "Change Makers Fes", as this is where all the young change makers gather and together start making this world a better place!
The First Ever, Change Makers Fes!
Concept
The live event that celebrates and empowers youth who took action towards the other
Title of the Event
Change Makers Fes 2021
Dates
March 20th 2021
Place
Online (zoom, Youtube Live)
Participants
children and youth (under 26 years of age) in Japan who took action towards SDGs
Purpose
1. Encouraging the participants to feel that they, as young generations, can actively change the world now.
2. Encouraging the participants to understand the international and domestic social issues, and the links between themselves and issues, as well as what they can do to create the foundation of actions as change-makers.
3. Encouraging participants to understand different backgrounds and values, and to feel the importance of individual dignity
Fee
FREE!
Program
– Speech and performance by activists and celebrities
– Release of impact made by participants' service
– Speech and performance by children and youth activists (participants)
– Introduction of the theme of action
In Cooperation with
OSAKA Akaru Club, FRONTIER INTERNATIONAL INC., General Incorporated Association ALL NIPPON
RENOVATION, Wake Up Japan, One Young World
Registration
Click here to send the report of your actions to receive your ticket to Change Makers Fes!
(The form is only in Japanese at the moment but you can send your report in English)
Questions?